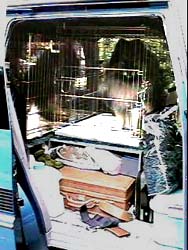 Off at last! Dogs in their crates, half what I own in the car, and only a half hour late. That is, before spending the next hour searching for a Starbucks, without whose cappucino Pat can not start the day. I managed to pass the Bay Bridge without finding myself headed for San Francisco, and all went well until time to turn off of 101 and head down the Russian River for the coast.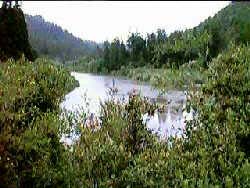 It seems Hwy 116 does not intersect Hwy 101 the way it shows on my California map, and I drove up and down the road for many miles before getting a Sonoma County map and finding that I needed to connect via several other roads. Oh well, we were now only some 2 hours behind schedule, but no sweat, right? All my reservations are confirmed with my VISA.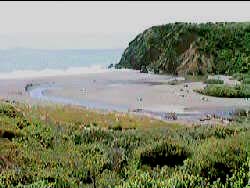 So we got onto the coast road at last, and after passing several spots showing landslide damage, reached a spot where Hwy 1 was closed and all traffic had to detour. I was upset at first, but it was a truly lovely detour! It wound up into the hills, through gorgeous country with extremely picturesque snaggly wooden fences lining the road, and occasional glimpses of an infinity of blue sea. I'd show you the scraggly fences, but I find that digital cameras, at least this Casio QV30, are definitely not a replacement for a real camera. It is very hard to compose a picture outdoors, because you can barely see anything on the viewscreen with the high ambient light. The digital camera does not reproduce greens worth a @*!, and the resolution is not sufficient to show fine detail. Not to mention, you can not expose a backlit scene properly, nor a scene where the sky is much brighter than the landscape; and its "telephoto lens" is a joke compared to a real telephoto. I used my real camera for the real picture taking and then just snapped pics with the digital for the web. You want to see really pretty, you have to wait until I get the real pics back and scan them. In its defense, the digital does a nice job indoors in low light conditions.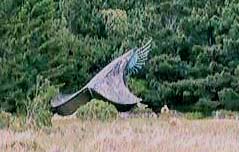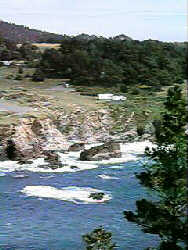 Well, back to the trip. After we got back on Hwy 1, we saw the most fantastic house!! This little photo does not do it justice... hopefully the real pics will... but the house was a huge sculpture of a place, with a fantastic metal web springing from its peak. Wow, what a sight. I can't even imagine what it must be like living there, or having enough money to pay no attention whatsoever to practicalities.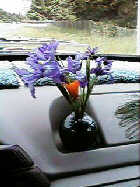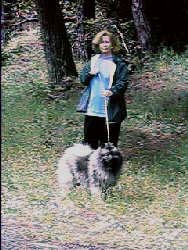 It's a lovely time of year to be on the Mendocino Coast, as the wildflowers are in bloom. Pat picked a few wild iris and California poppies to grace the dashboard vase... (What? You mean your dashboard does not have a flower vase? Philistines....)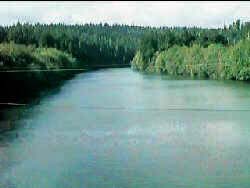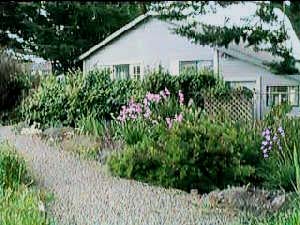 We finally arrived at the Elk Guest House at almost 6 PM, tired and really ready to stop. Rapped on the door of the main house to get the key... and were met with shocked incomprehension. You say you have a reservation? What reservation? Arrrgghh! Fortunately however it was vacant, although they had promised it to someone who had called an hour earlier. We got to move in, and when they arrived 10 minutes later, they got to stay that night in a little dumpy accomodation not half so nice. The Gardener's Cottage is indeed very nice! It's a whole 2-bedroom house with complete kitchen and all the appurtenances including a piano, and a huge deck overlooking the ocean in back and a lovely garden in front. Lots of glass and fantastic views, miles from the nearest town -- a real charmer of a place.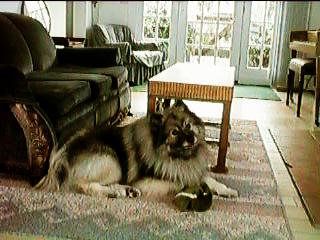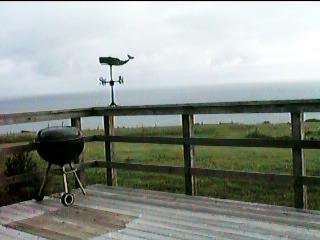 Now the nasty of the day. While unloading the van at Elk Guest House, I noticed that the fates have picked this time, when I am off on a trip with all sorts of valuables loaded in the van, for the lock on the tailgate to decide it needn't bother locking any more. ARRRGGHH! This is not the time for such shenanigans!! Tomorrow... the redwoods in the morning and the Oregon coast in the afternoon.
---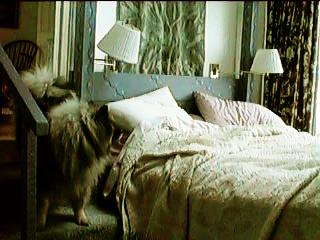 'Tis the morning, and Elk Guest House is revealed to have a few little deficiencies along with its utter charm and stunning view. Namely, my bed was not a real bed but a cotton futon up on a platform! Now some would undoubtedly find this delightful, but I found it hard!
Also, since is it a tiny operation it has no way to assign phone charges to the rooms, so therefore the phone is set to not allow long distance calls except via calling card... and my dialup software does not speak calling card. So the world will have to wait for tomorrow night, when we stay in a citified hotel in Eugene, to see our Mendocino Coast day.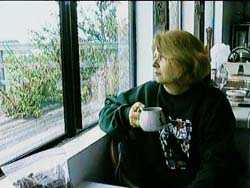 Pat, however, found it utterly civilized as the kitchen was stocked with real coffee beans and a grinder! While I type this she is beatifically drinking coffee with bread and jam she bought at a Farmer's Market (delicious!) while looking out over the calm morning sea.