This puppy thinks dogshows are soooo tiring...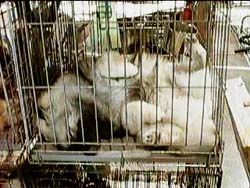 Show site is right on the lake, a very pretty setting. The whole show is in a single large room, with rings in the center, vendor booths surrounding them, and then grooming areas. Makes it very nice for watching the show while grooming and/or sitting a vending table.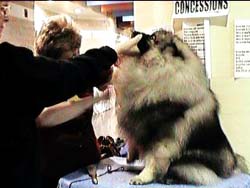 I might have taken a table myself if I had known they would not be separated from the action. Oh well, I've pretty much sold out of the stuff I brought with me anyway, so a table really wasn't necessary.
Today was the Keeshond Fanciers of the Central States specialty. I am delighted to report that when the enormous "specials" (champions) class was cut to a small number for consideration for Best Of Breed, my Singer made the cut!

I was blown away, because there were some truly spectacular dogs in that ring, famous dogs with outstanding win records. Really feels great that the judge thought my Singer was up in their class. Worth the trip! Makes me dream of what might have happened if Singer had not been going out of coat at this time. Sigh.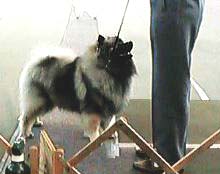 Shady on the other hand did not make the cut; but then, she is still very juvenile and she had the disastrous bad luck to be right behind Candray's Camellia and the comparison was not flattering to my Shadypup!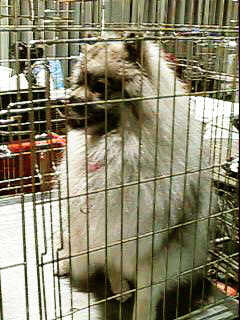 The Keeshond-L bunch had a fun rowdy dinner together Thursday night but alas I stupidly forgot to bring my camera so no pics. Several of the others had their digital cameras in hand, though, so you should see all our mugs on someone else's web site in the near future.