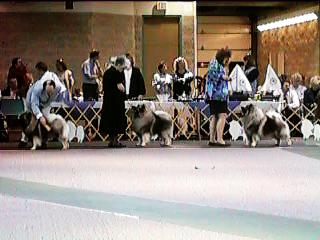 Well this was it -- the annual Keeshond Club of America National Specialty Show. I had envisioned myself sitting at ringside watching the show, catalog in hand so I can tell which dog is which, since I didn't take a sales table this year. Best laid plans etc... it didn't work out that way. First of all, they ran out of catalogs and I had none, which meant I had no idea who I was looking at. Second of all, I left out of the calculation that all my time would be taken grooming Singer and Shady! I spent most of the National looking at the same old grooming table and brushes and combs. My setup was behind a big pillar, with no view of the ring. Oh well.
At least during BOB judging, I got to sit at ringside with Jan's catalog since Jan was in there showing Singer! It was a treat seeing all the famous dogs in the flesh that I had only seen in win photos. Then the judge made the first cut, winnowing the grain from the chaff; and out he pulled one great dog after another; Allante's Crackerjack, O'Delyn's Bet Your Boots, O'Delyn's Lonestar, Sherwood Silversmith, KJ's Purrcolator... huh? what's this? Singer! My boy made the semifinal cut! I was more proud than you can imagine, watching him standing out there amongst all those famous dogs. And him out of coat! I dream that if he had been wearing a big coat, he might have made the final cut too. Heck, he might have even possibly gotten a Select award! I don't dream so big as to think he might have won BOB.
I was particularly pleased this weekend because both judges chose Singer for their cut, in spite of the fact that they went for completely different dogs in general. Shows he's a good solid all-around dog.
Shady did not make the cut either day. She showed her little heart out, and was in a very full coat, but she is only 19 months old and just not competitive with the "big dogs". The contrast was particularly sharp because she was right behind the spectacular Candray's Camelia in the lineup. Shady also needs to learn to gait with her head held up, instead of studying the floor for possible tidbits. Oh well, she has lots of time ahead of her.
At the KCA Award Dinner, the judge explained what he was looking for. He wanted beautiful silhouettes as the main thing. He took some exhibitors to task for excessive trimming. He said he put up some trimmed dogs because the dog was truly excellent, but scolded the exhibitors that they had no need to trim these dogs. He said he wanted to see clean legs and feet, and said he did put up one dog with smutty legs because the dog was outstandingly sound. He said he has sensitive skin and the (forbidden) sprays dyes etc some people doctor their dogs with makes his skin break out. He showed us his hands -- which had broken out. 'Nuff said.
I was very impressed with his judging and would enter under him again in a shot -- even with Shady whom he did not choose.
As a capper for the day, Jan won a huge fancy whelping box at the raffle! And her flying home. Well, my itinerary has me passing within 10 miles of her house, so we strapped the whelping box on top of my van and I am doing the second half of my trip with extra baggage!