The day began with a very elegiac feel. When I took the dogs out for their morning walk, most of the dog vans were gone from the parkinglot and there were only a few other Keesies in sight. I pined for the other mornings, when their was a sea of gray fluff taking their morning constitutionals, barking merrily at one another.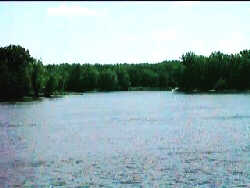 Then I organized myself for the return to the road, and felt a pang as I put so many of the state maps away... Oregon, Washington, Idaho, Montana, North Dakota... all gone into the past. The midpoint of my trip had been reached and I was going downhill from there.
On the other hand, I was more than anxious to leave behind the urbanized shores of Lake Michigan and head out into God's country once more. It was good to get out into the farmlands once more, but I felt the real lift when I crossed the Mississippi and the world unfolded from the wooded hills of Wisconsin into the open plain and wall-to-wall sky of Minnesota.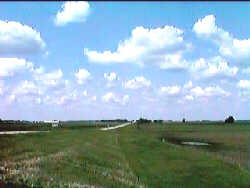 That wonderful feeling of gypsy euphoria came upon me once more, and I sped down the road with music on the radio and a smile on my face. And rags and tatters fluttering behind me....
The elaborate confection of thin plastic supposedly shielding the whelping box from possible bad weather disintegrated into scraps within 3 hours of highway speeds, leaving little behind but the (tons of) duct tape which once held the plastic down. Looks like I've got a ragbag strapped up there now. Oh well, I'm angling down to the desert Southwest so it is unlikely the whelping box will get rained on if it makes it through Wyoming without mishap.
The various hummings and flappings up overhead were very distracting at first, and the car drives differently with that extra wind resistance, but I soon got used to the new configuration and hardly notice the extra burden any more..
Today was Memorial Day, and midwesterners appear to take it a lot more seriously than we do in the West. Every cemetery I passed was bright with flags and fresh floral arrangements. I put Faure's Requiem on the tape player and felt very much in tune with the day.
I'm staying tonight in Sioux Falls, just over the line into South Dakota. It seems a very nice little city, clean and bright, in contrast with the aged feel of Racine. I feel uneasy in the older Eastern cities.