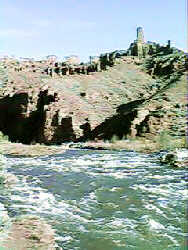 Wow, wow, wow! Today I climbed into Yellowstone from the eastern, higher side, and proceeded down the east side of the park and on out to Grand Teton park. Quite a bit of the way was above the snowline -- goodbye for a while to summer, get out the coat again -- and the wintery scenery was just devastatingly beautiful. Perhaps I like wintery scenery particularly well because I never see it.

I had a great encounter with a buffalo. He was grazing right on the verge of the road, and when I pulled over of course the furbeasts all started barking madly. The buffalo did not feel comfortable grazing so near a whole pack of dogs, so he snorted and swung his head around and finally trotted away, thus giving us a wonderful up-close "action" look at a buff. I hope I got some pictures; I took several with my "real" camera but unfortunately at some point in the morning I discovered I had loaded a roll of film improperly and had taken 36 pictures (I thought) with no film recording them. I hope the buff was after I discovered the problem and not before. Can't remember.

They had the east road all torn up, and once again my poor car got covered with filth. I stopped at a station for gas and made a few swipes at the car with my car-towel, hoping to brush off the worst of the dust. No good, it needed water, that dust sticks like glue. But, while fussing with that, evidently I must have dropped my credit card because when I got to my motel tonight I found I had no WFCU Gold Visa.

:-( I immediately called to report it lost, but I am worried about what it might have been doing between 11 AM and 5 PM, in whose hands. Fortunately I had a MasterCard along and I can put the rest of the rooms and gas on it... but it is always disconcerting to lose a major credit card. I hope it was picked up by someone with ethics.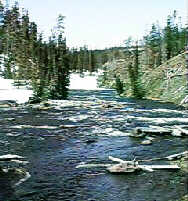 On the way out of Yellowstone I passed a really lovely little waterfall. I hope the "real" camera caught it, because in this low-res digital pic you can't tell the waterfall from a snowbank. Take it from me, it was beautiful.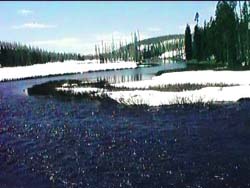 On the other side of the bridge, the stream wound through a snowy meadow, the richest deepest blue against the pure white snow. The sort of thing you'd find on a Christmas card.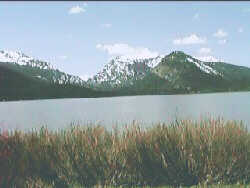 Emerging out the southern end of Yellowstone and into Grand Teton National Park I drove for a few miles with nothing more than the usual pretty mountain scenery. Then I came around a curve and before me was a cobalt blue lake backed with spectacular white peaks. Breathtaking!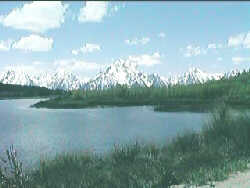 The name "Grand Tetons" was supposedly given to the mountains because of a fancied resemblance to breasts. I think the translator got it just a tad wrong... they don't look much like human breasts, but they sure resemble the rows of teats on a sow! If you can imagine a very very large sow, upside down.
Past the Grand Tetons I drove through merely ordinary beautiful scenery, down the valley of the Snake River. I had hoped to stop for a couple of hours in Jackson, but as usual I frittered away too much time making scenery-stops so I just drove through Jackson, regretfully looking at its interesting shops and galleries and the Museum of Wildlife Art. Another time, Jackson.
I was concerned lest this afternoon's scenic road turn out to be as slow and exhausting as the route over the Big Horns, so I pressed on as quickly as possible. It turned out to be an easy route, mostly following river valleys, and I reached Montpelier and my motel by 5 PM. Gave me enough time to get 3 days' worth of web pages and mail processed!
Tomorrow will be a make-up-time day, 10 hours of straight driving with no scenic stops planned. I have given up on Bryce Canyon in order to make up time. I'm getting a little jaded anyway and will undoubtedly appreciate Bryce better some other trip.