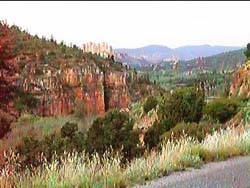 I began my day in Sedona at dawn, taking pictures of the red rocks and shivering in the cold wind until I broke out the winter coat again. I had a lovely leisurely breakfast in a cafe with a wide view of the rocks, and killed an hour or two at the motel reading, playing a computer game, and waiting for the shops and galleries to open at 10 AM.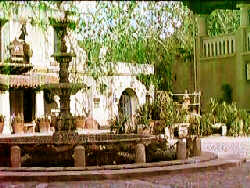 When the time arrived though I found there was a definite spanner in my plans again. The sun was brilliant and hot and the temperature was already 83 degrees. That's the desert for you. There was no way I could leave the dogs in the car for even 15 minutes under those conditions, so I packed up and headed towards Benson, much earlier than planned.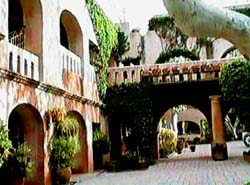 By the time I got to Phoenix, the temperature was 98 degrees outside and there was no way I could stop for a sitdown lunch, either. So I ended up driving straight through with a Big Mac for lunch, and arrived in Benson early in the afternoon. Dad was not expecting me until late evening, so there was no one home, but the place wasn't locked up so I just went in and made myself at home. That's life in safe little small towns in the middle of nowhere!

Dad lives on a mesa at the edge of town, with views stretching forever.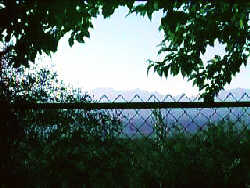 Sitting in his lush-lawned and heavily shaded back yard looking out at the blue mountains across the valley has to be one of life's finer moments. Even on a hot afternoon, like today, the back yard is delectable. This is where I plan to live after I retire. It is truly a piece (and peace) of Heaven here.