Left Pat's at 10 AM and drove thru Los Angeles. Multiple traffic jams, and smog so heavy that the highrises of downtown were ghostly images in dun haze. Not able to see the surrounding mountains at all. Why does anyone live here?? It is all the more gross when contrasted with the lovely prairie skies I was under only days ago. I was sooo glad when I finally emerged from the other side of the San Fernando Valley and climbed up into blue skies again north of Castaic.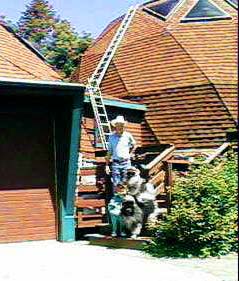 I stopped for a couple of hours at Jim & Joanie Fraser's place up in the Grapevine. The pic is them and 2 of their fuzzbutts in front of the dome they built with their own hands. The ladders are not the way they go upstairs to bed at night; Jim was doing some El Nino roof repairs.
I drove home up the lovely Salinas Valley, enjoying my last burst of gorgeous scenery. I really should have stopped to take some pictures, but I was headed for my stable! I arrived home at 10 PM to find everything perfectly OK. There has obviously been at least one big rainstorm while I was gone, and the garden looks great. Walking into the house I blessed the forethought that made me leave it clean and sparkling when I left on the trip.
My trip-enduced euphoria was pricked with a vengeance though when I cleared my phone messages -- one from the landlord, they have listed my house for sale! Argghhh! Very poor timing for a move, since Bonnie is due to have puppies in about 2 weeks. I guess the time has come that I must put my house in Oxnard on the market and buy a place up here. It will be smaller than I prefer, because this is the most expensive place in the country to live, and the sale of my Oxnard house will not go very far towards buying a house up here. Sigh. I had hoped I could continue in this quite-lovely rental for another 5 years.
Now it is a cold gray morning and my agenda for the day perforce includes househunting -- in San Juan Bautista, I think; I'll trade a longer commute for cheaper housing. Arrggghhh! Moving ahead! I loathe moving!!