As we drove north from Coos Bay along the Oregon Coast, things changed, but only from one flavor of beauty to a different one. We no longer saw the abundant roadside wildflowers of California, but instead there were beautiful flowering bushes -- yellow broom and pink rhododendron. The coast ceased being spectacularly rocky, and became broad beaches whose waves broke multiple times, starting far out, creating an incredible lacework of the most delicate off-green shades, ravishing to the eye but impossible for a camera to catch.
As we approached Portland though we got tangled in Friday rushhour traffic, through a city whose ugliness was a horrible contrast to the beauty we had been travelling in hour after hour. When we finally emerged on the other side, once more into incredible beauty that lifted our hearts, I Had An Epiphany. What an incredible thing natural beauty does to our spirits, and how starved of it we are in our urban wastelands. Why, thought I, that is what Art is all about! We are attempting to import something of that natural high into our drab urban lives. I bet that those who live surrounded by the true beauty feel no need to strive for the imitation that is Art.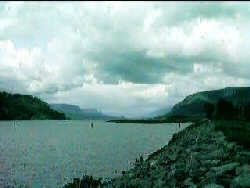 Anyway, to return from my flight of philosophy to the Road East... A new and different beauty expressed itself here. I was especially ravished by the subtly different shades of the hills as they receded; several shades of green, bluegreen, bronze, lavender. Again, impossible to catch such subtlety with a camera; but I wish I could have pulled over at roadside, erected a magic glass shelter to keep my tender California sensibilities from the cold drizzle of Oregon, and spent the afternoon capturing those hills instead of driving onward. I'd love to see what EllieG could do with the colors of those hills, yes I would!
And then there are the waterfalls... I have said before how much I love waterfalls, have I not? These are very fine waterfalls, very fine. Except! What has Oregon done with Multnomah Falls?!? When I last saw it in 1960, it was a beautiful roadside waterfall. Now it is a veritable waterfall Disneyland. Good grief! Leave nature alone, Oregoons! The waterfall is still beautiful, but enclosed in buildings and gardens as it is now it has definitely lost something and become the world's largest garden sculpture.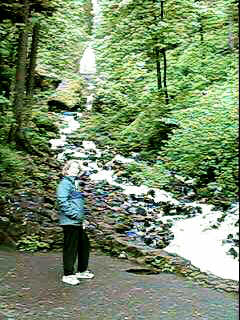 Driving on through the gorge to where the forests end and turn into bare baked rock, I thought of how different we experience it than Lewis & Clark must have. It seems such a sudden change when you are travelling at 65 mph! But at a walking pace, it must have been a perfectly gradual and natural change from plains to forest. There, where the sides of the gorge are exposed in their rocky bones, I became intensely curious about the geology of the gorge. I have a book of the geology of the West at home and I wish I had brought it along. Such square, vertical cliffs, of slatey-looking rock. How were they formed?
Well, once again the best laid plans went agley... we arrived at Richland at 9 PM, having taken over 3 hours to travel between Portland and The Dalles, what with waterfalls and rush hour traffic. Obviously my estimates of how much time would be consumed by stops was seriously out of whack. Oh well. So we are getting used to getting in late.
And on a bright side, once on the drier side of Portland we started encountering roadside wildflowers again, and added a sprig of a blue-violet flower of a shape semi-belled and semi-starred, to our accumulating arrangement of orangeCalifornia poppy, yellow mustard flower, purple wild iris, and what seems to be a wild sweet pea in an intense magenta-maroon shade. The dashboard flowervase is a blaze of color! We may not be able to add to it again until the Idaho mountains, though, since the plains of eastern Washington seem quite barren of flowers.