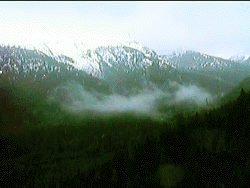 We love Montana!! It was a rainy day in Glacier Park, but we had no complaints because we pretty much had the park to ourselves and the mist and rain made such subtle colors of almost-green and almost-blue. The digital pics don't even begin to capture the look of the massive snowy peaks and the plunging valleys threaded with wild rivers.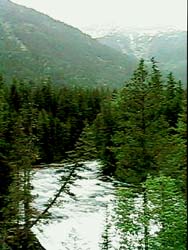 We got turned back half way up Going To The Sun Road since Logan Pass was still closed on account of snow and ice. We were not surprised, since we had 2 brushes with snowstorms, in the middle of May! We thought we were looking at blowing scarves of mist, but when we got into them we found they were cloudbursts of snowflakes. Difficult driving, but an exciting experience. We got no pictures because our delicate California sensibilities were not up to 35 degree weather with a strong wind and snow. Not in the least.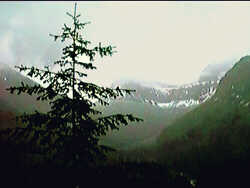 Once we emerged from Glacier Park on the east, the terrain changed instantly from forested mountains to rolling grassland, and we got a look at why they call Montana the Big Sky State. The huge overarching sky was decorated with tangles and puffs of clouds, white and dark intermingled -- striking and beautiful. I admit, although I love the mountain scenery I am a savannah person at heart, and the grasslands were what really spoke to my heart.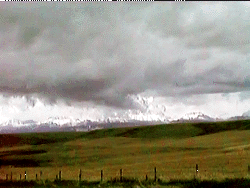 I will say however that the Montana roads department is from hunger. Driving down state hwy 89, miles and miles from any alternate route, we arrive without warning at a stretch about 15 miles long where there is no road at all, just a gravel track. !!! One minute you are cruising smoothly at 65, the next minute you are lurching over ruts at 15. And a similar though mercifully shorter stretch had been turned into a potholed quagmire by the rains. How can Montana leave the roads like that?? And without warning! The bright side though was that we had Hwy 89 almost to ourselves, not another car on the road, presumably because everyone else knew to avoid it. :-}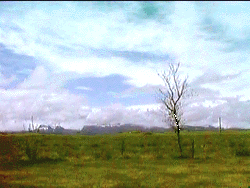 The land is so close to what it must have looked like 150 years ago, that it seems like any minute you will see cowboys come riding over the rise, or go around a hill into a sheltered dell and encounter an encampment of Indian tipis. It does not seem part of the modern world at all. We sang cowboy songs as we drove along..
I ride an old paint
I lead an old Dan,
I'm goin' to Montan'
For to throw the hoolihan...