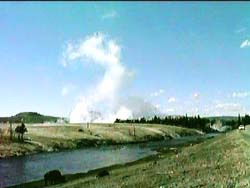 Spent the day today at Yellowstone, which was not enough to allow us to see all of the park but gave us a good peek.

Everything was more fascinating than the last.... except that the fates chose to play a game with us at Old Faithful. We arrived 3 minutes before it was due to spout, cameras ready; and waited; and waited; the geyser did some minor splashing but never let go. 40 minutes passed. We succumbed to impatience and gave up. Of course, no sooner had we gotten into the car and started to pull out of our parking spot when Old Faithful roared into the air. I think it was cocking a snook at us. So, we got to see it but not to take any pictures of it.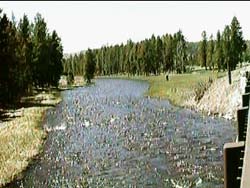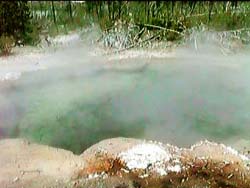 We saw hordes of elk, all looking really mangy with their winter coats half fallen off; lots of buffalo including little baby calves; and one lone moose. The park was not in the least crowded, doubtlessly because of the early season and fiercely cold weather. Temperatures were around 45 with with a strong wind that blew right through you.