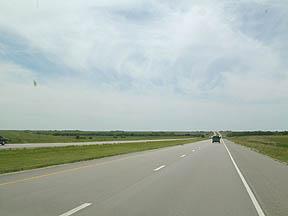 Kansasians will be happy to hear that we have exonerated the state as a whole from the bad impression caused by the feedlots with dead cattle in them down around Garden City. We left Kansas going straight along I70, and passed nothing untoward the whole length of the state. Lots of flat level grass and occasional flat level fields. Here it is, quintessential Kansas: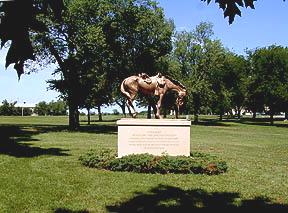 We made a stop at the Cavalry Museum in Fort Riley. The fort itself is a beautiful old army post, with buildings made out of local limestone. Back in the 1860's, it was probably cheaper to build out of limestone than ship in lumber for construction... but they made some very lovely buildings.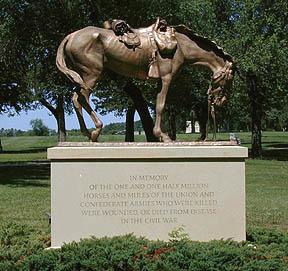 Outside the museum is a beautiful lifesize bronze statue of a cavalry horse, memorializing the million and a half horses and mules killed in the Civil War. A million and a half horses! That statistic really gets thru your mental filters and emphasizes the carnage of the Civil War. We get blase when we hear statistics of soldiers dying, because we expect lots of soldiers to die in wars. The horses, though -- that is still capable of shocking






The Russell Stover candy factory is located in Kansas right on I70, and we were forced, simply forced, to stop at the factory store and buy bunches of our favorite candies dirt cheap. "Pecan Delight" rabbits left over from Easter, at 75% off... imperfect "Mint Dreams" at 50% off... a valentine box of mixed chocolates at 85% off -- how could we resist?!