When I got to the Moab KOA, which advertised that they had modem connections available, they said they no longer did. They sent me off to town to an internet cafe... which only allowed the use of their desktop to surf the web, not connecting your own laptop to upload and download stuff. Very frustrating! Expecially since the next night would be in a Forest Service campground with no modem connection possible. One really needs a satellite phone in order to to travel via motorhome, if one is an email junky.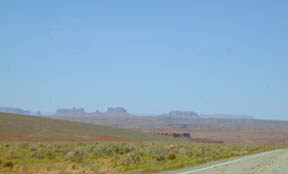 Leaving Moab, we went through a surprising landscape of green lush uplands. I had expected bare red rock all the way from Arches to Monument Valley. Not so! It is lovely territory, except that it is surely colder than H in the winter. Eventually we dropped down off a rim, and found oursselves in the bare desert we had expected. Ahead on the horizon we saw the first glimpse of Monument Valley...


Closer we came, our road rising to meet the huge buttes...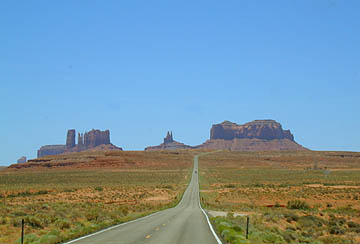 After passing through the buttes on the highway, we turned off into the Navajo Tribal Park, to see a different aspect from the other side, from a dirt road...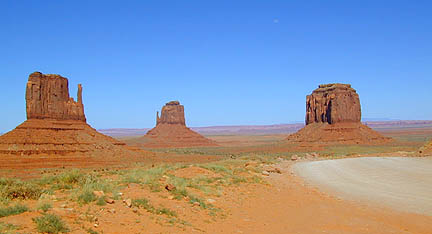 We would have liked to explore the dirt road further, and see more of the valley, but we had spent so much time at the Navajo Market at the entrance to the park,buying Indian jewelry and crafts, that we had to turn around and hustle off to reach our next camp by dark. Monument Valley is definitely a place to return to.
Today the motorhome made its worth felt. Shortly before reaching Monument Valley, I got too sleepy to continue driving, and Jeannine was too sleepy to take over. So we found a spacious pullout, fired up the generator, turned on the air conditioning, and retired to our beds for a halfhour nap. This is much nicer than taking a snooze sitting in the driver's seat all hot and sweaty because with the engine off so is the A/C! And then again, at the Navajo Market I finished my shopping far sooner than Jeannine, who is into Indian jewelry big-time. So I got some fry bread and mutton at a stand, took it back to the moho, turned on the generator and the A/C, and ate my lunch in comfort while Jeannine shopped.
The comfort could have been better however if I had been able to sit at the dinette instead of eating off a TV tray I had fortuitously packed. But, we had to sacrifice the dinette while travelling to Singer's crate. This is Singer's last road trip. He has gotten very nervous about highspeed driving, and when we had him in his crate back on the bed, he barked all day, non stop, no joke. Between irritation at the barking, and sympathy for his obvious stressed-out misery (panting explosively, chewing on his crate bars, etc) we could not stand having him back there. We tried letting him ride loose, but he was so frightened he was completely out of control and a danger. Ergo each morning we take the dinette table down and put Singer in his crate there, He has not been riding completely calmly even there, but he is much better and he is handy to yell at if he starts barking again. :-)