Rolling down the road just west of the Colorado River. Jeannine is driving and I am trying to do the daily travelogue... but I tell you, it is tough with the laptop jittering around as the stiff mohome springs expose every single irregularity in the road surface. Remember that commercial where a guy cuts a diamond in the backseat of a moving car? Well it sure as heck wasn't a motorhome.
Since we arrived at Joanie's at 2 AM, there was no chance to socialize -- they were long since in bed -- so instead of leaving first thing in the morning, we did our visiting and left just short of noon.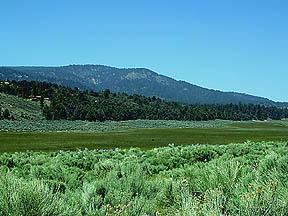 Of course that means that we are not quite to the Colorado River yet and it is already 5:30, with almost 4 hours to Flagstaff (provided we make no further stops). We'll be arriving late again, but hopefully tomorrow we'll be back on schedule. Not that terribly much to do of an evening at a KOA in Flagstaff, anyway.
Joanie lives up on a mountain, and to get there you have a steep grind up the face of Tejon Pass (incidentally, Jeannine tells me that this is California condor country!). This makes it very weird that when we turned eastward at Gorman, we had a pretty smooth flat non-mountainous trip. The countryside gradually changed from grasslands and sage scrub to high desert, and each mountain range we passed was colored and shaped differently. Perhaps not the typical postcard view, but lovely and interesting.
Late in the afternoon we reached the Colorado River, which forms the border between California and Arizona.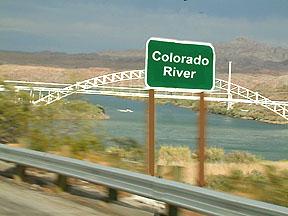 The speed limit in Arizona increased to 75 mph; otherwise the drive was uneventful. We passed through more lovely desert landscapes, including the buttes near Kingman. The dogs have been travelling very well with the exception of Singer, who seems to be anxious about the new vehicle and the road noise. He particularly dislikes the sound of the "wake-up strips" along the right edge of the road. After several prolonged bouts of barking, we both developed a bit of paranoia about driving near the right edge, for fear of hitting the "wake-up strip" and starting another round from Singer. Fortunately the girls quickly learned to ignore the old man and were remarkably quiet. We tried letting him ride loose in the mohome, but he persisted in trying to climb on top of a human for safety. Having a 55-pound dog assaulting one's head is neither comfortable nor conducive to safe driving.
We reached the KOA in Flagstaff about 9:00,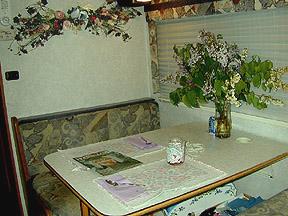 managed our first hookup without apparent difficulty, took care of the dogs and settled in. The advantage of RVing is that when you pull in late at night, tired and hungry, you don't have to go hunting for a restaurant. We enjoyed all the comforts of home, complete with a vaseful of lilacs from Joanie's yard. The downside is when you wake up in the morning to find that your toilet has overflowed and converted your home to a marsh.


Here's Singer, feeling very woeful...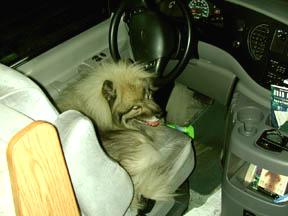 And here's Libby, supervising Chris while she drives.