Going north from Santa Fe, the desert was completely left behind. We drove through pine-clad mountain landscapes, until they slowly dwindled into isolated buttes, and then finally dwindled away completely, leaving us in a flat grassy plain. "Odd," I thought, "I never knew the plains began in NM."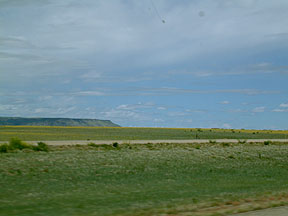 Well, they don't. After 60 or so miles of flat plain,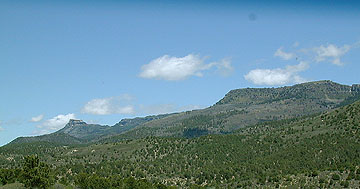 we climbed up into mountains again, on the border of NM and CO.



Coming down out of those, we arrived at the place where the true plains meet the first upthrust of what will eventually be the Rocky Mountains. We could see the great snow-covered wall of the Front Range way off to the west. We will get better acquainted with the Rockies on our return trip.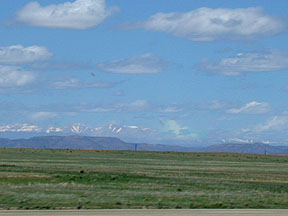 At Trinidad, CO we left the Interstate and headed east on a virtually empty road. It was delightful driving... like our own private highway. It almost felt like some sort of post-nuclear experience. The mountains were quickly left behind us, leaving us on dead flat grasslands arched over by the beautiful unique sky of the plains.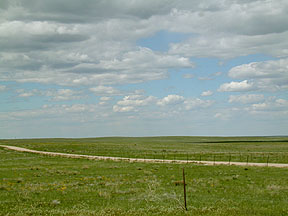 I last saw such a sky on the last trip, going through South Dakota. Clear blue with a million isolated white cloud puffs, like ships in some aerial regatta, with their shadows chasing over the landscape making different colors whereever they fall. I do love the plains!
We made a dog-walking stop at an old abandoned intersection, featuring an old falling-apart sod hut.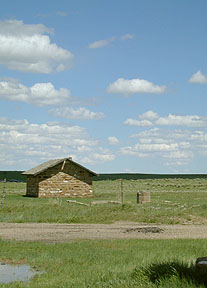 If you look very closely you can see Jeannine and 2 of the furbeasts under the distant copse of trees.