I noticed yesterday that despite the motorhome being so new, I had stacked up 6,000 miles -- which meant that I absolutely must get the oil changed, especially in light of this hot journey. So I kept stopping at every possible place I might get it changed, until I finally found one that would do the job while I waited. By then I was far off the Interstates, up in Edmond OK. When it was done, I asked the workers which was the best way to get to the Turner Turnpike since I was bound for Tulsa. I am once again reinforced in my attitude that you should always look things up on a map instead of asking anyone for directions. He gave me very clear directions to I-35 North. The only problem was, after going some miles on I-35, I discovered it does not go anywhere near Tulsa. It goes to Wichita. So, I got off, got out my road atlas, and discovered a cross-country route that would take me to Tulsa.
I was happy to get off the Interstate anyway, as I had planned to take Route 66 instead of a freeway north from Oklahoma City.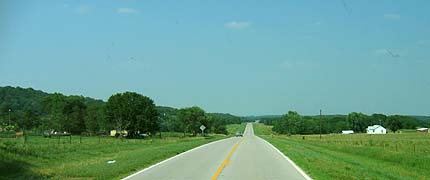 Route 33 is an excellent road that goes through beautiful countryside. It is slowed by passing through a good-sized town, but when I am not in a hurry I enjoy seeing the ordinary towns of a new region.
At Tulsa I picked up I-44 just long enough to get through town, and then exitted onto Route 66.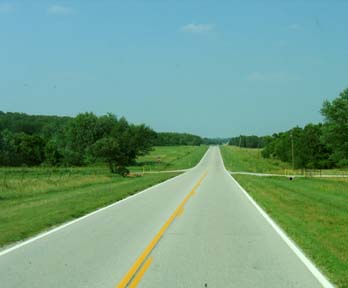 It goes here through an absolutely emerald landscape, full of horse farms and registered beef cattle farms and one very posh alpaca farm.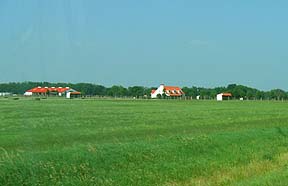 It is impossible to imagine this area ever having been a Dust Bowl.
Where Route 66 runs through a town you can see echoes of what it must have been back in the 30's and 40's.