The morning was rainy and cool, and unlike Kentucky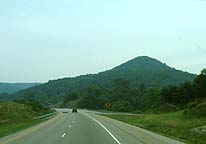 West Virginia provides frequent, attractive roadside rest stops, so I travelled the way I originally intended. I drove a couple of hours, stopped for an hour to stretch out on the couch and read my thriller and let the dogs enjoy some crate-free time, then drove on, stopped for lunch and lingered over my plate for another couple of chapters, drove on... it was really awfully nice, and the dogs really enjoyed the frequent breaks also. Wish I could have done the whole trip this way.
Roads are also better marked in West Virginia. I drove via Interstate since the grain of the mountains is crosswise to my route and I didn't want to dive down into every deep valley and climb up every steep mountainside on the old roads. I had to change Interstates 4 times, but I didn't have the slightest problem. When I had to jog a little on I77 to pick up I79, there was one of those huge overhead signs, clearly saying "This lane to I79". Boy did I appreciate it after my experiences in Kentucky.
The mountains in West Virginia sort of loomed up ahead,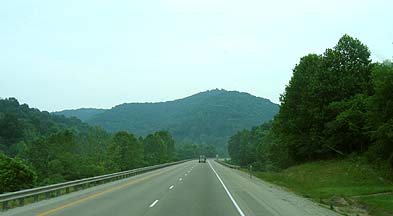 looking far more impressive than the little pimples they look like in these pics. I have noticed before, that human eyes give different amounts of significance to different visual things, and hills are something we always see as big and noticeable.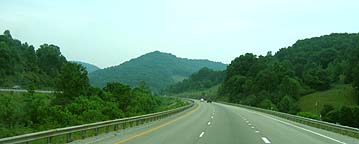 One presumes that what the photo records, is the true reality. But it doesn't actually LOOK like that. It's another case where only a painting can capture the scene as experienced; photos don't work.
I passed a couple of eastern white-tail deer right close on the shoulder of the Interstate, and was struck again by how much more beautiful they are than western mule deer. Their coats are the most gorgeous rich russet color, not drab gray-brown. Lovely creatures.