Once on the other side of the Eisenhower Tunnel, I turned north on State 9 towards Steamboat Springs.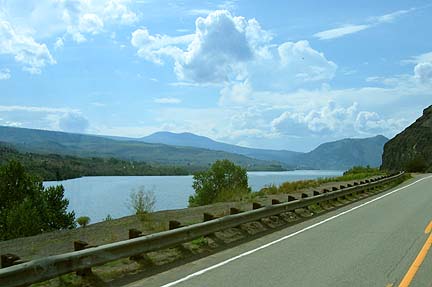 I've never been through northwestern Colorado before and I felt like seeing some new country on my way home instead of following I-70 through Grand Junction. State 9 runs down the valley of the Blue River and is easy driving, through beautiful country with almost no traffic. As the elevation drops the heavily forested mountains give way to dry treeless sagebrush, but it is still beautiful in its shapes and distances and colors.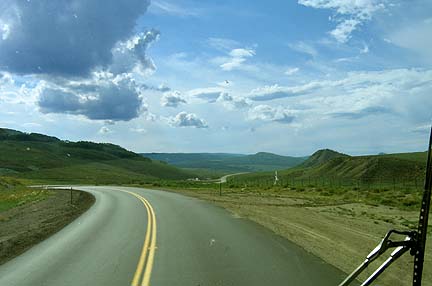 State 9 ended at US 40 where I turned west once more. US 40 travels the gap where the steep peaks of the Rockies, both north and south, moderate to more gentle and gradual mountains. It's where the early Mountain Men crossed the Rockies, where the Green River and the Colorado both originate. I actually crossed the Colorado, way up here in northwest Colorado far from its southwestern canyon aspect.
US 40 is a stunningly scenic road. I recommend it highly for anyone who is more interested in seeing the country on the way than getting West as fast as possible.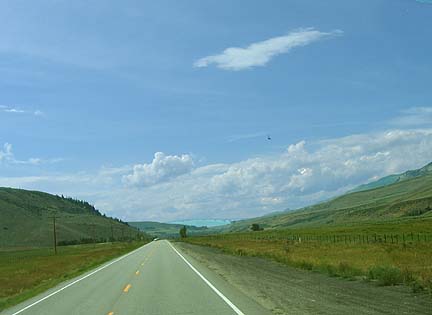 From the intersection with State 9, it slopes upwards once more, and the dry sagebrush slowly changes to green sage and grass, then scattered trees, then over the Muddy Pass, back to full dense forests. Pulling the Pass meant second gear once more, but the scenery was so spectacular I didn't mind at all.
On the other side of the Muddy Pass is Steamboat Springs, a clean and charming resort town; and then an easy descent down the Yampa River Valley down the western side of the Rockies. Which incidentally is a gradual slope in general, not the steep ascent of the eastern face of the mountains.
I am staying in a KOA in Craig, Colorado, almost down out of the Rockies. I got here late, courtesy of the late start in Limon plus the slow going over the mountains; but tomorrow is a short run down to Vernal, UT and I'll do my motorhome chores in the morning.