Thursday, July 27
Returning, Day 12
Across Utah
Vernal is just barely inside the eastern border of Utah, so I crossed the whole state today.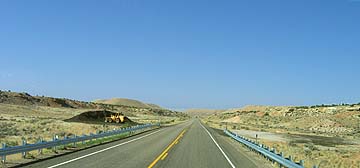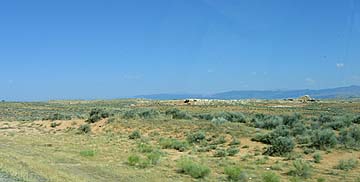 It begins with more extreme desert land, same as I crossed on the other side of the Green River.
US 40 gradually rises into lovely upland country -- so gradually that it takes a little time before you realize you are rising into the Wasatch Mountains.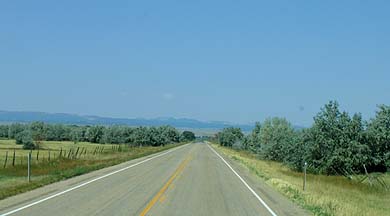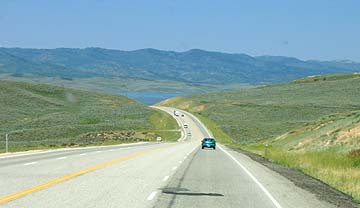 It seems geologically odd, that the gentle slope of the Rockies drops to the westward, and then the gentle slope of the Wasatch Mtns rises also to the westward; with only the Green River valley lying between them.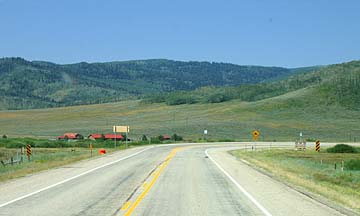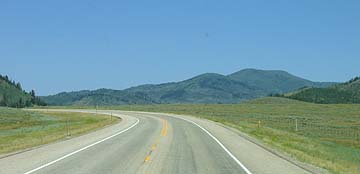 Like the eastern slope of the Rockies, the western slope of the Wasatch Mtns is precipitous and you really know you are in the mountains once you start descending it. Partway down, US 40 turns north at Heber and shortly thereafter joins I-80 for the drop into Salt Lake City. I took no pictures of the descent, since it was mainly through unlovely rock canyons and I had to tend to my driving.

This lovely reservoir near Heber is where I stopped for a scenic lunch break.

The Salt Lake area was extremely hazy --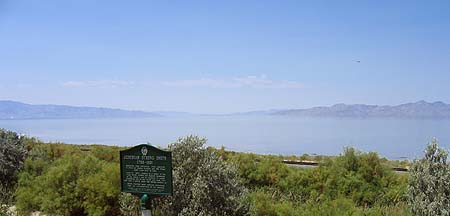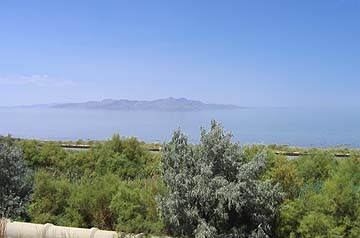 dunno whether it was water vapor from the Lake, or pollution from the city; but distances were blue and faint instead of the crystal clarity of the mountain slopes.
Salt Lake is surrounded by extensive salt pans. Is this because of the area's drought, or is it normal?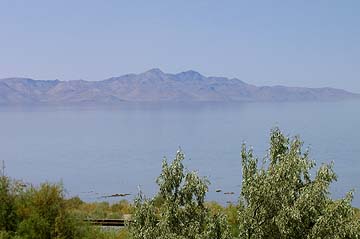 Once past the Great Salt Lake, the country is exactly the sort of "blasted heath" that I expected of northwestern Utah.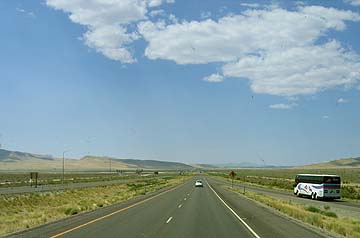 But then, I entered saltier and saltier land, bare of vegatation, until I realized I was crossing the Bonneville Salt Flats --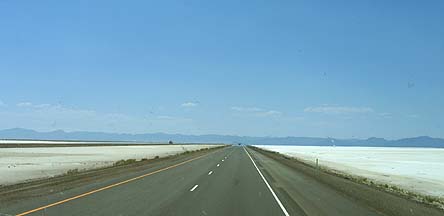 which are the remnants of the huge Bonneville Lake of the far past.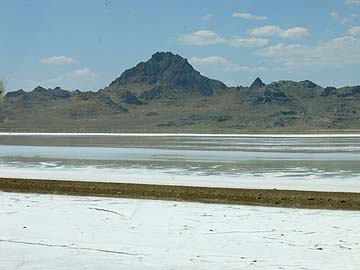 Then it dawned on me, all the country from there to and including Salt Lake must have been part of Bonneville Lake, and even where the land isn't visibly covered with salt, the soil must be very, very alkaline. No wonder it is a blasted heath!!
I'm stopped just across the Nevada line, at the little town of Wendover, which consists of a few houses and a bazillion garish casinos. Surrounding countryside is bare brown rock. Tomorrow I cross the entire state of Nevada, stopping tomorrow night at Reno, a stones' throw from the California border.