1st Prebyterian Church, Rumson

Stained Glass Spectacular, Page 3
The front (altar) wall of the church features a large Madonna and Child window dedicated to those who served in World War II. The robe details on this window are particularly stunning.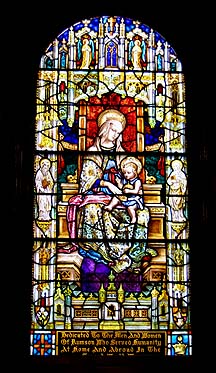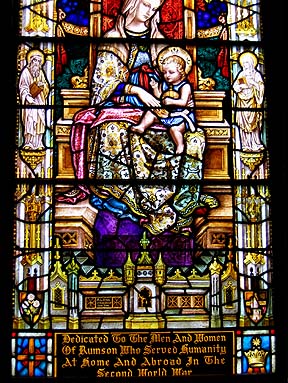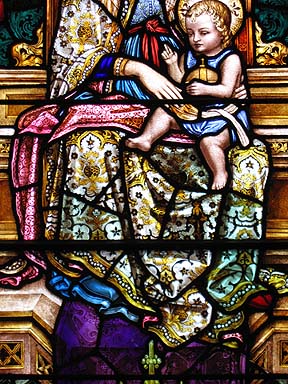 The choir stalls were originally on either side of the church, and above them were 2 panels featuring an angel choir playing instruments, one on either side of the big WW II window. Here are the 2 panels, plus a detailed look at the first one. Incidentally, it looks to me like the same artist did these panels and the WW II window, don'tcha think?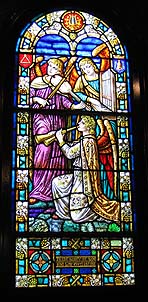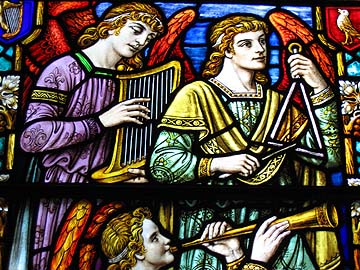 The L terminates in the huge semicircular window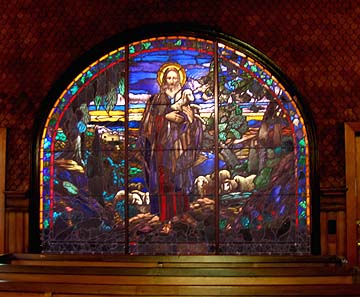 depicting the Good Shepherd, which I include here again for your delectation. This was another of the windows that I loved so much as a child, although I could not stare at it during service as I did the Stand At The Door window!
The side walls of the L contain windows of a more recent vintage and a noticeably lesser artistic standard. I would like to think that stained glass masters still exist and the recent windows merely reflect the choice (or pocketbook) of the donors, but I fear that stained glass of the virtuosity seen in the rest of the church may now be a dead art.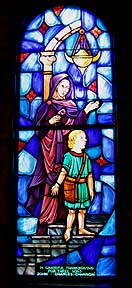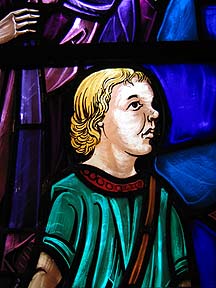 Compare this with the face of Christ from the "Behold I Stand at the Door" window.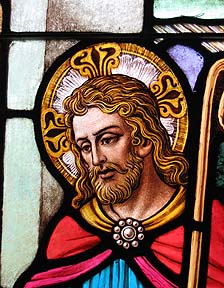 Two windows remain to be filled with stained glass, and the commission is in progress. They are a pair of windows on the left wall up by the choir stalls. They are not prominently noticeable, but they can be seen and enjoyed if you seek them out. The comparable windows on the right wall are blocked by the current placement of the organ (a large pipe organ, not a little console) and will probably never be done. These two last windows will commemorate the church's current ministry among Chinese and Koreans at Fort Monmouth, and will have delicate Asian designs of bamboo sprays etc, with a Psalm in Chinese on the one window and Korean on its mate. I think they will be very beautiful and I will be sure to get back to Rumson in a couple of years to see them.