When I originally planned this trip I thought I might see the Delaware Water Gap once more on my way to the Upper Delaware Wild and Scenic River. But then I decided to change routes and take NJ Hwy 23 through scenic rolling dairy country and New Jersey's highest point (imaginatively named High Point). Hwy 23 angles northwest instead of running due west to the Gap. Back when I last lived in New Jersey I used to drive that route when I felt like taking a scenic drive. I was 20 years old and owned my first car. Nostalgia flash -- it was a two toned turquoise and white Oldsmobile, with an interior of white leather and black fabric with silver glittering threads in it, and lots of shiny chrome fittings. They don't make car interiors like that any more. It was a beauty. I had a spinner on the steering wheel with a red rose encased in clear acrylic. Sigh. It was worth the constant chrome polish to keep those shining bits looking silvery and clean of rust.
Well, back to business. In order to reach Hwy 23 I had to jog a few miles West on I-80. I watched carefully for an exit marked Hwy 23, but I never saw one. Maybe I missed it, or maybe it was marked US 46 which was accessed from the same exit. At any rate, by the time I became convinced I had missed 23, I was so far down I-80 towards the Water Gap I decided it made best sense to press on through the Gap and then go up US 209 through the Poconos on the Pennsylvania side of the Delaware River. It had the benefit of my never having been in the Poconos before.
Back when, before the Interstate, there were several nice vantages of the Water Gap as you approached from the East. Now, you can't see it until you are about to go through it, and there is no place to stop.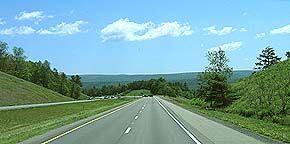 Yes there were 2 "scenic outlooks" approaching the Gap -- at one, the trees had been allowed to grow up so that you saw nothing at all; and the other loudly proclaimed that it was for autos only, there is no place to turn a large vehicle or a trailer around; so I had to drive on by. Too bad. So I will have to describe it instead of showing a picture.
Imagine a freeway cut, through a high rocky forested ridge. To the left is ridge, to the right is ridge; dead ahead is a cut through them, about as wide as a large freeway, showing the rock strata as all freeway cuts do. Nothing spectacular, right? Except this cut was not made by blasting and heavy machinery; it was made by Nature, time and the river. North of the Gap, the Delaware River runs on the west side of this ridge. South of the Gap the river runs on the east side on its way to the sea.
Once through the Gap and into Pennsylvania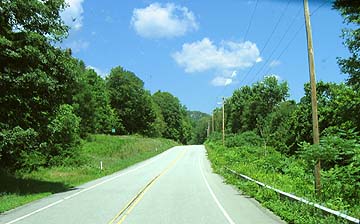 I encountered a toll plaza that choused $5 out of me, even though I was going to be taking the next exit at US 209. Grrr.

US 209 was not a fun road. I sat in a huge traffic jam for a half hour, then drove through a succession of towns at 35 mph, until I reached the Delaware Water Gap National Recreation Area where at least there were no towns. The speed limit was still 45 though and although the road runs along the river, you rarely get a glimpse of it through the trees. It did take me north to Port Jervis however where I rejoined my original planned route.