Monday, July 17
Returning, Day 2
To the Finger Lakes
Soon after I left my stopping place the road left the edge of the water and the wild part of the "Wild & Scenic" ended.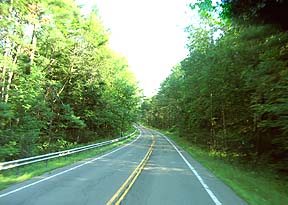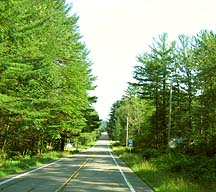 The road skated along the edge of the hills, and the Delaware was bordered by farm fields and houses. I got occasional glimpses of the river and it remained broad and beautiful although now it was running shallow with many rapids.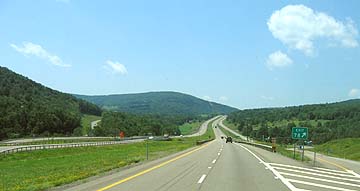 Eventually the little narrow Hwy 97 ended at Hwy 17, otherwise known as the Lower Tier Expressway. The countryside was now more open, allowing beautiful views when the road crested a hill.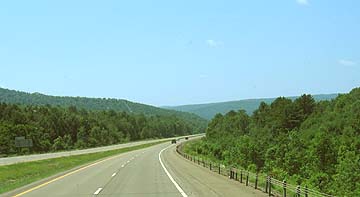 I turned off Hwy 17 onto another little back road, Hwy 96. It runs through a lot of little towns on the way to Ithaca. At one point, going across a bridge I saw this stunning view of the town center of Owego, NY. Isn't that a pretty town!!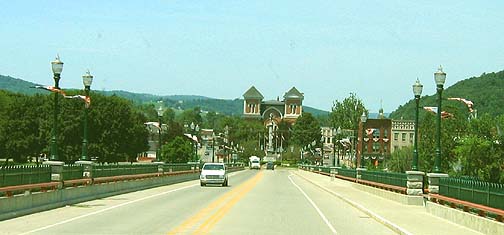 One of the pleasures of driving around the East is the many beautiful old houses one passes. I wish I could take a picture of every one that was special -- but there are so many! I saw 3 houses with the most incredible "carpenter gothic" eaves you could possibly imagine. Before seeing them, I couldn't imagine such houses at all!
After a slow trip through the little towns I eventually reached Ithaca, and the Finger Lakes. Ithaca sits at the foot of Cayuga Lake, the largest of them.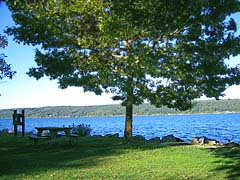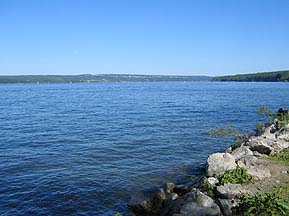 I stayed on Hwy 96 angling from Ithaca up to Geneva at the top of Seneca Lake.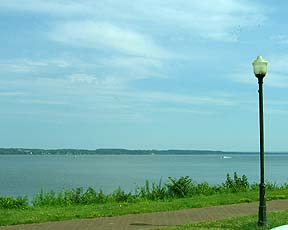 At Geneva, I switched to Hwy 20 to cut over to the town of Canandaigua at the top of Lake Canandaigua. The towns in the Finger Lakes region are very clean and pretty, probably because of the resort syndrome. It may be a bit artificial, but still very attractive when you are used to ordinary towns with a higher sleaze quotient.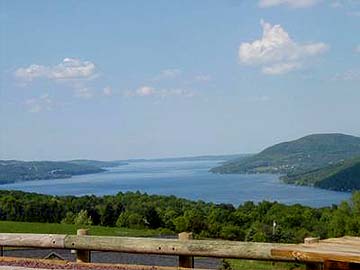 By now it was 4 PM and I was quite tired after all the backroad driving, so I opted to stay at a KOA just north of Canandaigua instead of pressing on towards Niagara. Tomorrow will be soon enough. I do love being able to stop when I want instead of having to keep on a schedule.