When I laid out my route southwest out of Niagara Falls,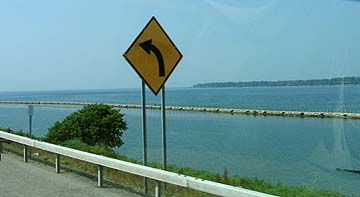 I thought I would get a look at Lake Erie since the road appeared to travel along its edge. Alas, no such luck. I-90 follows the Niagara River to where it drains out of Lake Erie, but immediately thereafter the lake vanishes behind trees and buildings. So the only glimpse I got of a Great Lake is this one, where Lake Erie funnels into the Niagara River on its way to Lake Ontario and eventually the sea. Oh well, another trip, in the future. I'm only going to take one of these loooong trips per year, though, because it just takes too much time away from mundane responsibilities.
The southwestern corner of New York State is covered in vinyards! As is much of my state of California. Seems like wherever you look, you see grapes. It seems very very odd to have vinyards carved out of forested country, backed and surrounded by trees.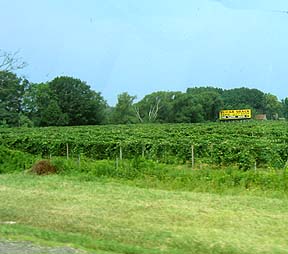 Through the little strip of Pennsylvania along the Lake, and on into northern Ohio, it poured rain, so heavy the wipers were at full speed and barely able to keep any visibility. Some branches of lightning lit the sky in the distance, through the gray gloom.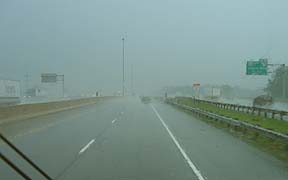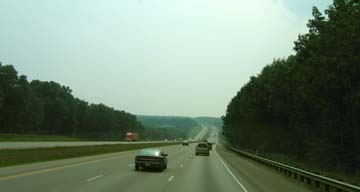 Once I turned south onto I-71 at Cleveland, I left the heavy rain and entered classic Ohio farming country. The rain had not cleared the air as it does in the West, though -- it remained very warm, just now intensely humid as well. Airconditioner kept on airconditioning -- thanks to the generator keeping on generating. Yay Marty! I had to stop on the way to Niagara, to buy a can of oil to keep the generator topped up. It eats a significant amount of oil in just one day's operation. The Onan generator on the old motorhome did not do this -- looks like there is a reason Onan has such a better reputation than Generac. When this generator has served its life, I will replace it with an Onan for sure.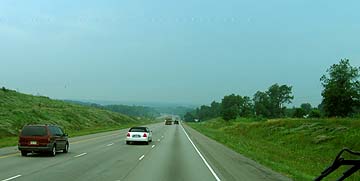 The farms and clean little towns of central Ohio are charming. It looks like a very peaceful life here.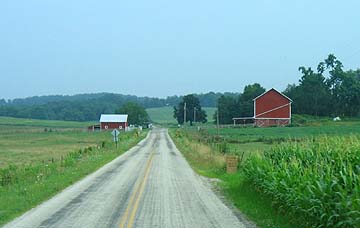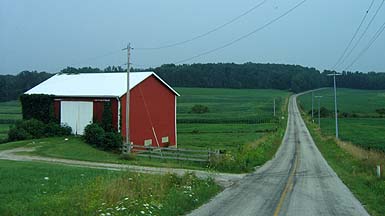 Isolated, though -- I have no cell bars tonight, nor does the campground offer a cable TV hookup. I scanned the FM radio dial and found a succession of country/western stations, and one classical station out of Columbus.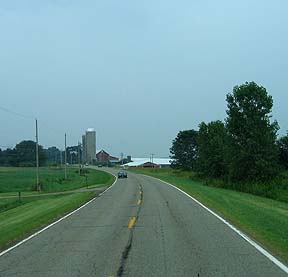 Oh well, at least I was able to get a local weather forecast; no severe weather in store. I would like to see a national forecast though so I can plan my route better. I do NOT want to go through any severe thunderstorm weather in this motorhome, of the kind that features freak winds that overturn semis, or horror of horrors, a tornado.
I'll have to stop in some parkinglot in Columbus, where I will have cell bars, to upload this page tomorrow morning.