Saturday July 22
Returning, Day 7
Illinois and Missouri
I had intended to do a short leg today and stay in St Louis -- but once again St Louis had freak weather yesterday, thunderstorms with gusts up to 80 mph that sent several big trees down into houses and cars, and blew an 18-wheeler over onto its side; so I was nervous about stopping there and instead did a loooong leg and went all the way through to Kansas City. I tried to find RV parks west of St Louis on I-70 that weren't clean across the other side of the state, but there was only one listed on the Internet and it was in Columbia, halfway across the state. I reached Columbia at 4 PM and opted to keep on going to Kansas City and stay at the KOA there.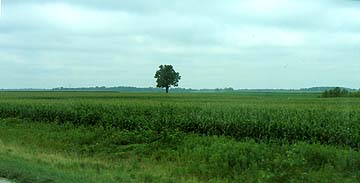 A cornfield in Illinois
While sitting in the Terre Haute KOA watching cable TV, there was a severe weather alert for a line of thunderstorms with gusts up to 60 mph that was headed right where I was. They warned everybody to go to an inner room of their house., Made me very anxious sitting here in my motorhome. I ran the slide in to maximize aerodynamicness, and huddled on the bed with the dogs while great crashes of thunder went by overhead. Not only the dogs were scared this time, I was too. Fortunately no wind gusts realized at my location, but I definitely did not want another night like that if I could avoid it -- especially when I saw the footage of the blown-over semi on the TV.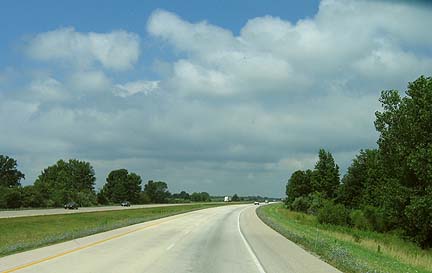 Since I had a long drive to accomplish today I stuck to the Interstate and set my cruise control at 65 instead of my usual 55.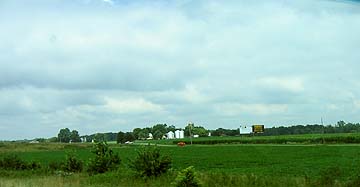 In southern Illinois the land flattens out and the farms got much bigger -- no more smallish fields set between wooded hills, now there were broad flat fields with a far fringe of woods, and bigger farm buildings too.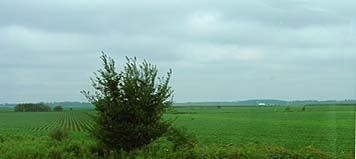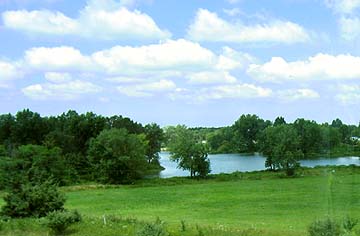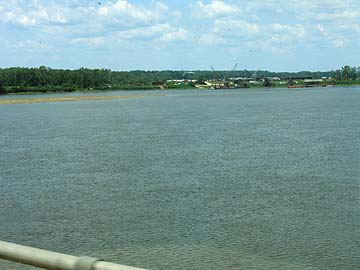 I lucked out and had little traffic on the bridge over the Mississippi, and was able to grab a snap of the river. It looks about the same width as the Navesink -- but this is a real, freshwater, river not a saltwater estuary that calls itself a river. :-)
I am now emerging from the East and beginning to be in the West, and as usual I have a welcome-home reaction to the big spaces and wide skies. Visiting the East is delightul, with its lush greenness and beauty, but my heart is in the West. There are still trees to be seen, but they are much smaller trees than the maples and oaks of New Jersey; and the sky is visible all the way down to the horizon in places.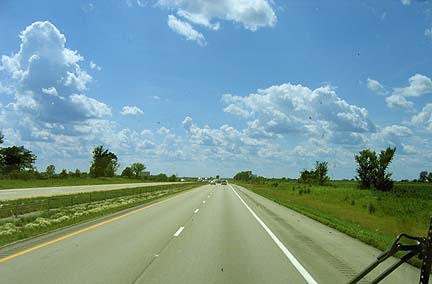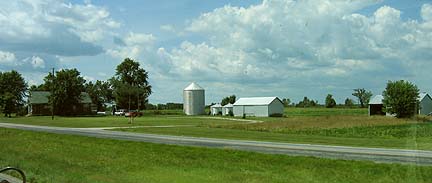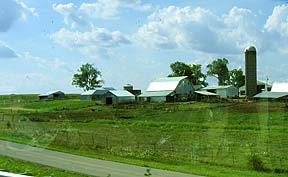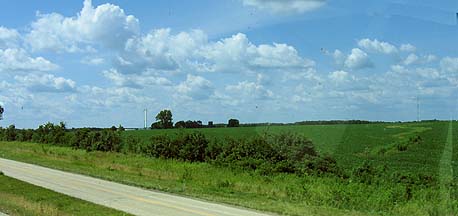 Between the thunderstorm, and both dogs having bouts of diarrhea that made them need to go out every 2 hours -- of course staggering their needs so I got up every hour -- I got very broken sleep last night and am amazed that I made it all the way to Kansas City. I will now close this page and go to bed, hoping for a solid night's sleep before launching myself across Kansas tomorrow. I gave the dogs a vacation from food today to help things along. I am not pleased with their reaction to the Nutro Max I had to buy for them when their normal Canidae ran out at the end of my New Jersey visit. :-( Next trip, I will find space to squeeze a full 40-lb sack of Canidae in somewhere.
Morning addendum -- once again the WiFi was inadequate for the evening users, and I had to fall back on my cell phone. This morning, everyone else is not on the Internet and I was able to get in and get some highspeed service. At the Niagara KOA, they had multiple WiFi servers with sufficient signal to handle all the users, and it was just like being at home. Other than having to use this moribund laptop, of course. All RV parks should provide sufficient WiFi to be actually useable in the evening, instead of just at 7 AM. Editorial comment.
I spent some research time on the 'net and picked out the laptop I am going to buy when I get home -- it will be an HP Pavilion DV5000Z. :-)